Like many things in life, one size doesn't fit all when it comes to business development and account management.
That's why you need account segmentation to suit your business.
Get your account segmentation right and you can maximise the impact of finite resources. Focus time and energy where it matters most. Invest heavily in the commercial relationships that will bring the greatest long term value. Hone your approach for the biggest impact.
So here are two ways to segment accounts:
Firmographic segmentation.
Tier-based segmentation.
Let's examine each and understand how they can be used in salesforce.
1. Firmographic account segmentation
This is similar to demographic segmentation for B2C customer markets and can be valuably applied to B2B markets.
Firmographic account segmentation uses factors like number of employees, turnover, industry, geographic location and type of ownership to define and segment your customers. In other words, it's a fact-based objective approach to segmentation.
With some legwork, the segmentation data is fairly easy to obtain. In fact Data.com and other services can automate much of this essential data gathering work for you.
Account segmentation by firmographics in salesforce
There are a number of standard fields in salesforce that immediately help with firmographic segmentation:
Industry
Annual Revenue
Employees
SIC Code
For geographic account segmentation create a custom picklist of relevant territories or use the standard salesforce territory management function.
If you are implementing account segmentation for the first time – or updating your existing segmentation – then you need to update the existing data.
There's no need to edit each Account by hand! Use one of these two approaches:
Create Account List Views that enable users to edit multiple records at a time.
Export your data to Excel and use the Apex Data Loader to update the modified records.
Here's how the firmographic data might look like in a salesforce report and dashboard chart.
Limits of firmographic account segmentation
Because it's factual, firmographic account segmentation removes the risk of ambiguity in segmenting accounts.
But that's also its shortcoming. Firmographic segmentation provides valuable but limited insight for business development purposes. In itself, it doesn't tell us how much effort should be expended on each Account. It doesn't tell us about our aspirations for each prospect. Nor the culture of the organization or its own aspirations. Or inform the approach we should take to developing relationships with key individuals.
That may be fine. Firmographic segmentation is a powerful way of assigning and managing territories. And in many businesses firmographic account segmentation meets the core segmentation needs of sales and marketing.
But where firmographic segmentation really adds value is when it's combined with tier-based account segmentation.
Awesome Pipeline and Sales Performance Visibility
Download the FREE Dashboard from the AppExchange today
2. Tier-based account segmentation
In tier-based account segmentation, business users make a judgement call on each Account. It's that judgement that determines the account segment. It's a more subjective approach than firmographic segmentation.
Each segment reflects the long term value of the customer or prospect. As such the segment defines the Accounts to which key account management techniques will be applied.
Tier-based account segmentation means the business development team must think more deeply about the value and potential contribution from each Account. That in itself is a good thing.
But tier-based account segmentation should also be facilitated with firmographic data. Combining the subjective with the objective approach will make for a well-informed business development strategy. After all, a company with whom you want to develop a long term relationship is unlikely to be in an industry for which you have no solution or territory you cannot support.
Examples of tier-based account segmentation
Most businesses use descriptive terms to describe each of the segments. Here are some examples.
Season-based account segmentation
One of our clients in the medical supplies industry uses seasons to define their segments.
The company has a definition for each segment that is based on the potential future value of that customer or prospect.
High potential account that is showing early signs of revenue growth.
High performing account with stable revenue stream.
Former high performing account where revenue is in decline.
Dormant account with little or no revenue.
This approach has been embedded into the company and is used by all departments to describe and segment customers and prospects.
To drive the strategy the customer has implemented Key Account Planning and Activity Reports to ensure the right level of resources are being applied to each segment.
Relationship segmentation
Here's the account segmentation used by another of our customers. The terms and concepts draw heavily on the research and publications of account management expert Andrew Sobel.
Here's how our customer defines the three segments.
Expert for hire
The customer has a problem they want to solve and recognize we have the specific knowledge and experience to deal with it.
Almost all customer-supplier relationships begin this way. The trust and mutual understanding that enable a relationship to deepen have not yet had the time to develop.
Steady Supplier
We did a good job on the first engagement. The customer regularly buys additional products and services from us without considering other vendors.
We provide additional value to the customer within the context of our products and services. We have access to senior management. However we are not yet part of customer's 'inner circle' of trusted advisers.
Strategic partner
What we deliver is fundamentally important to the customer and they recognize we play a key role in the success of their business. We provide a unique and personalized experience that recognizes the mutually strategic nature of our relationship.
We have developed many personal relationships at all organisation levels. We provide significant value outside the confines of our products and services. This value provides a powerful experience that binds our companies together.
How to build tier-based account segmentation in salesforce
The customer uses two picklists within salesforce for account segmentation.
Current segment. This is how they believe the customer or prospect currently perceives the company.
Target segment. This is where they want to move or keep the relationship.
Here's how these fields can be combined with firmographic data for robust account segmentation.
Reports and dashboard charts can also be produced to highlight our current and target segmentation position.
Remember, it's perfectly OK to have Accounts with a Current and Target Segment of Expert for Hire. That probably means both parties are content with the existing relationship. Likewise they have a significant number of Accounts with both a Current and Target Segment status of Steady Supplier.
In fact when this account segmentation approach was first implemented, the company found it was very easy to mark many accounts as target Strategic Partners. In reality very few of your customers should be in that segment. It takes a lot of effort to achieve and maintain. You need to be confident it's worth it.
That means the aspirational objective for many customers that contribute to our business is Steady Supplier.
Remember that you can use the same approach to updating the existing records if you are doing this exercise for the first time. Use List Views to mass update records. Alternatively export your data to Excel, modify the Segment fields and then update the salesforce records using the Data Loader.
Implement your account segmentation strategy
Defining your account segmentation strategy is the first step. Specifying the segment that applies to each account is the second.
Ensuring the strategy drives behaviour across the business is the third. And often the most challenging.
However we've written a number of previous blog posts that will help you use salesforce to achieve this.
Account segmentation does more than focus your mind. It can drive the focus of your business. It's simple to implement and there's no reason not to get started today!
12 Must-Have Charts For Your Salesforce Dashboard
Download the FREE eBook from our website today
Track targets in Salesforce including won and pipeline deals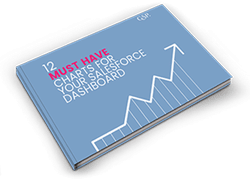 Download The 12 Must-Have Dashboard Charts
This fully-illustrated 27 page ebook shows you the 12 Killer Sales Charts for your Dashboard and explains How to Read Them and When to Use Them.