In the age of the internet most purchasing processes begin long before the selling organisation becomes aware of it. Invisible buyers perform invisible Google research. They narrow their invisible choices. They invisibly decide which companies to contact. And start forming an invisible sales pipeline.
Increasingly businesses are not only starting to get visibility of this invisible sales pipeline. They're influencing it. And the result is a constant stream of sales ready leads.
Invisible Sales Pipeline
So what exactly is the invisible sales pipeline? It's the investigation and research processes that potential buyers go through before they're ready to talk to a potential supplier. In our model we identify four stages in the invisible sales pipeline.
In summary:
Problem Awareness. The buyer becomes aware of a problem she's experiencing or an opportunity that might be exploited. The buyer typically spends time researching the web, casting around for information that will help build her understanding of the problem or opportunity.  Example: "I know our employees travel a great deal and incur a lot of expenses but no-one ever has any robust information on the costs."
Potential Solution. The buyer understands more about her problem. She starts to identify ways in which she can solve her problem.  Example: "It looks like we need an effective travel management system."
Candidate Solutions. The buyer has settled on the overall solution. She starts to research the potential companies that can provide this solution.  Example: "There's 10 companies that seem to have the type of system I need."
Preferred Suppliers. It's not realistic to talk to every supplier. So the buyer narrows down the list of companies she's going to engage with.  Example: "I've identified the three specific travel management system vendors that I want to talk to."
Of course it might not be as linear and well defined as this. But you get the idea. And however you define the buying process in your industry, most organisations have no idea the potential buyer is going through it.
Sometimes though they get an inkling. The potential buyer goes to a conference and is scanned. Or she enters an email into a form in order to download a document.
But often what then happens is that the 'lead' is passed to the sales person. So the sales person calls the lead, who in turn replies, "No thanks, I'm not interested in a meeting." Or words to that effect. "Those leads from Marketing are always rubbish", thinks the sales person. And doesn't bother to phone the next one.
Is this the best lead process that can be achieved? No. Over the next 6 weeks we'll be publishing several more blog posts that explain:
How you can get visibility of buyers in the invisible sales pipeline. Short answer: use marketing automation applications such as Hubspot, Marketo and Pardot. And integrate them with Salesforce.com.
How do you influence prospective buyers in the invisible sales pipeline? Short answer: create compelling and useful content that educates and influences the buyer as she moves through the various stages of the buying process.
How and when do you pass a prospective buyer from the invisible sales pipeline to the sales team. Short answer: when your lead scoring and prioritisation mechanism tells you it's the optimum time.
The invisible sales pipeline doesn't need to remain invisible. Stay tuned by following us on Google+
Awesome Pipeline and Sales Performance Visibility
Download the FREE Dashboard from the AppExchange today
Track targets in Salesforce including won and pipeline deals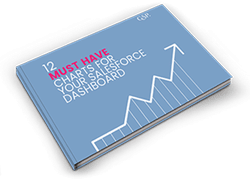 Download The 12 Must-Have Dashboard Charts
This fully-illustrated 27 page ebook shows you the 12 Killer Sales Charts for your Dashboard and explains How to Read Them and When to Use Them.