52% of high-performing sales people are power users who take full advantage of their company's CRM technology compared to only 31% of under-performing sales people.
That's according to "What Separates the Strongest Sales People from the Weakest" published in the Harvard Business Review by Steve Martin of the University of Southern California School of Business.
Martin's research focussed on identifying what separates high-performing sales people who exceed their quota from under-performers who miss their targets by more than 25%. The ability take full advantage of the company's CRM system was key differentiator between the two groups.
In our experience, there are several reasons for this. Sales people that use a CRM system fully are able to:
Understand whether they have sufficient pipeline to meet their sales targets.
Quickly identify critical deals that contribute most to target attainment.
More effectively track actions related to opportunity closure.
Collaborate more efficiently with peers and colleagues on deals.
Not every sales person needs to be a power user. But here's the rub.  Many companies struggle to achieve even acceptable levels of CRM user adoption. And that means reduced benefits and lower sales.
So here are 8 best practice tips to increase CRM user adoption. They're based on our experience of working with hundreds of companies to increase and expand adoption of the Salesforce.com CRM application.
1. Create a powerful advantage to using Salesforce.
Make it easier for sales people to do their jobs by using the system than not using it.
For example:
Align Salesforce.com configuration and functionality with the business processes.
Use third-party applications (e.g. electronic signature) to increase efficiency.
Design and configure for end users not managers.
Use Chatter to collaborate efficiently and effectively on deals.
2. Create a powerful disadvantage to not using Salesforce.
Make it easier for sales people to do their jobs using the system. But conversely, make it harder if they don't use Salesforce.com.
For example:
Conduct performance reviews and team meetings using the information in reports and dashboards.
Manage discount approval processes only within Salesforce.
Communicate team updates only using Chatter.
3. Measure Salesforce user adoption using insightful metrics.
Login rates are a poor measure of user adoption. There are other, more powerful ways, to determine the level of individual and team user adoption.
For example:
Number of Opportunities with Close Dates in the past.
Number of Contacts created.
Percentage of non-mandatory fields completed on Accounts, Contacts and Opportunities.
Number of Chatter posts and updates.
Number of Activities created to record meeting and telephone call notes.
4. Proactively manage Salesforce user adoption.
Segment sales people into four user adoption segments. Manage each segment appropriately using the user adoption metrics.
Able and Willing. These people are already Salesforce power users.
Willing but Unable. They're willing to use the Salesforce, they're just not able (or not able to fully use it). Fix the issues that are getting in the way. Create an advantage to using the system. Strike a deal that when you've done that, the sales people will use the system.
Able but Unwilling. The key group to address from a management perspective. Make it clear what is expected. Publish the user adoption metrics. Point to success stories. Make it harder for sales people to do their jobs by not using the system.
Unwilling and Unable. Are they unwilling and unable on a host of other issues as well? Then it's a bigger problem than a Salesforce user adoption issue.
Awesome Pipeline and Sales Performance Visibility
Download the FREE Dashboard from the AppExchange today
5. Use reports and dashboards to measure sales performance.
Well formatted reports and dashboards give sales people and managers the visibility they crave.
Do this by:
Creating reports and dashboards to achieve full visibility of the sales pipeline.
Using best practice to make it easy for people to find the important information quickly.
Using features such as, "Run as logged in User" to make it easy for see the information that relates directly to them.
6. Create short videos that explain new functionality.
It's not always possible to deliver face-to-face training. Create short, videos to demonstrate and train on new functionality.
Do this by:
Using a screen capture tool create short (5 minutes maximum) videos to explain new functionality.
Videos don't need to be Hollywood production standard. Learn from YouTube – home made is fine providing it communicates valuable information.
Track who has watched the training videos using a professional hosting.
Use a free survey tool to deliver a short Q&A knowledge test.
7. Track sales revenue against target in Salesforce.
Take reports and dashboards a step further. Measure performance against individual sales person target within Salesforce.
Do this by:
Using a dashboard gauge as a simple way to visually communicate performance against target.
Try out the Forecasts tab for sophisticated forecasting and target monitoring.
Build a custom solution that automatically links Opportunities to the relevant sales person and team target.
8. Extend Salesforce functionality above and beyond standard capabilities.
We talked earlier about making it easier for sales people to do their jobs using Salesforce than not using it. Take this step further by using code or extended features to add valuable additional functionality.
For example:
Use a Product Wizard to make it easier to add Products to Opportunities.
Apply Product Schedules to improve forecasting and revenue recognition.
Automatically link all child Accounts in a hierarchy to the Ultimate Parent.
Import orders or invoices from an ERP or accounting system.
Integrate a marketing automation tool to increase the flow of sales-ready leads.
Without full user adoption, no company will gain the benefits that were anticipated from the investment in licenses and professional services. And as we've seen from the research, full of a CRM system is a characteristic of high performing sales people.
So apply our user adoption best practice tips to start boosting benefits in your business!
Useful links
12 Must-Have Charts For Your Salesforce Dashboard
Download the FREE eBook from our website today
Track targets in Salesforce including won and pipeline deals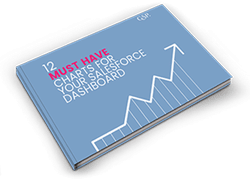 Download The 12 Must-Have Dashboard Charts
This fully-illustrated 27 page ebook shows you the 12 Killer Sales Charts for your Dashboard and explains How to Read Them and When to Use Them.