Framework agreements exist in virtually every industry.
They are the backbone of many commercial relationships. If you want a long-term relationship with a customer, it's a good idea to agree on a framework agreement.
So naturally, you want to manage framework agreements in Salesforce.
Yet companies often struggle to do this.
"We made a dog's breakfast of it," one prospect told me recently.
He wasn't wrong.
They created recurring opportunities for each month. They used these to anticipate ongoing revenue. Unfortunately, this meant they had opportunities coming out of their ears; but no visibility of the real pipeline or forecast revenue.
As we'll see, there are better ways.
So here's what you need. This is the definitive guide to managing framework agreements in Salesforce.
Types of Framework Agreement
First, you have to decide what type of framework agreement you are dealing with if you want to manage it successfully in Salesforce.
Here are four types of framework agreement you can manage in Salesforce:
Drawdown.
Regular Order.
Occasional Order.
License to Hunt.
In each case, I recommend you conduct account development planning and build Key Account Plans to drive revenue growth in these customers.
1. Drawdown Framework Agreements
In this case, customers drawdown products each month against an overall assumed volume.
Often, at the start of the agreement, there is an assumed order quantity each month. However, in practice, the actual order quantity usually varies from month to month.
These drawdown framework agreements are standard in many industries.
For example, Gilbarco Veeder Root is based in Greensboro, NC. The company creates drawdown framework agreements with petrol retailers to sell large quantities of gas pumps.
The agreement defines the products, pricing, commercial arrangements, and legal terms of the contract.
However, the petrol retailer does not want to receive all the pumps in one go. That's usually because the retailer wants delivery in line with a gas station re-fit program.
Consequently, there may be a written minimum and maximum order quantity each month. However, the actual amount ordered each month depends on the progress of the re-fit program.
2. Regular Order Framework Agreements
Often, companies that sell large volumes of relatively small-ticket items or consumables use regular order framework agreements.
The customer places regular orders when they need to re-stock. Often, the customer does this directly via an online portal.
For example, take Zimmer Biomet in the UK and US. They sell a variety of consumable products to dental practices.
Zimmer Biomet enters into a regular order framework agreement with the dental practice.
This agreement specifies the price for each product based on the anticipated volume. It also describes the training support, marketing, and other services provided by Zimmer Biomet.
The dental practice places orders every few weeks using the Zimmer Biomet ERP portal. As a result, the end-to-end process for packing, shipping, and invoicing each order is highly streamlined.
Each year, a review of the framework agreements compares actual orders with the anticipated volume. Potentially this results in changes to pricing within the contract.
3. Occasional Order Framework Agreements
With these framework agreements, customers place occasional, rather than regular orders.
The framework agreement covers commercial terms and over-arching legal terms. However, a separate specification and agreement define the specific products and services within each order.
For example, based in Malta, Evolve provide products and services to fit and equip a wide variety of medical laboratories.
Fitting-out each new laboratory is a significant undertaking. However, often these laboratories are with large pharmaceutical or government departments with whom Evolve regularly works.
A framework agreement is set up with the organization. This agreement defines the pricing and other terms that apply to each new laboratory within the framework agreement.
Of course, no two laboratories are alike.
Each order requires consultancy and detailed collaboration with the customer to define the specific products and services needed. Consequently, a separate contract, under the umbrella of the framework agreement, outlines the agreed work.
Here's another example.
At GSP, we use this type of framework agreement to do Salesforce benefit-enhancement work for many of our customers.
This means we have pre-agreed the commercial arrangements. We then define the specific scope of each project within the context of the agreement.
Get in touch if you'd like to discuss how we can work that way with your business.
4. License To Hunt Framework Agreements
A license to hunt framework agreement permits one party to seek-out deals in another organization or group of companies.
It's common in financial services and many other industries.
For example, based in the UK, Hornbuckle Mitchell provides financial services to brokers. They secure a license to hunt framework in two ways.
The first applies to large multi-branch brokerages.
The head office of the brokerage makes framework agreements with selected providers in each market category. If Hornbuckle Mitchell is chosen as one of these providers, they have permission to visit the branches and convince individual brokers to use their products.
Second, Hornbuckle Mitchell makes framework agreements with buying groups.
For example, these buying groups often make framework agreements on behalf of many small brokers.
The agreements cover fees, training, regulatory services, and commission. The license to hunt permits Hornbuckle Mitchell to visit the buying group members to promote and sell their financial products.
How To Manage Framework Agreements In Salesforce
Very often, with framework agreements, no money changes hands when the deal is done.
Instead, the revenue accrues over time.
With that in mind, here's how to manage each of the four types of framework agreements in Salesforce.
1. Drawdown Framework Agreements In Salesforce
Here's the key to managing drawdown framework agreements in Salesforce:
Products, combined with standard or custom schedules.
I'll explain:
Create an Opportunity to represent the potential framework agreement. You can track the progress using the standard Opportunity Stage field.
Add Products to the Opportunity to represent the physical goods and services you anticipate the customer will buy over the agreement's lifetime.
By the way, you might want to consider using the GSP Product Selection Wizard to make it much easier for salespeople to add Products to Opportunities in Salesforce than the standard interface.
Create a revenue schedule for each Product on the Opportunity. This schedule describes how the products and services will be drawn-down over time.
Here's an example:
Let's assume the customer anticipates buying 60 generators over 12 months. To make the math easy, let's assume each generator costs $1000.
The Opportunity has a total value of $60,000. That's the figure in the Amount field.
From a gross sales perspective, the deal is worth $60,000.
However, as we know, that's only half the story.
That's because the sales revenue will come to us over time; not all at one go.
Revenue Schedules by GSP
Improve forecasting by scheduling opportunity
revenue over time.
How to Forecast Revenue On Drawdown Agreements
We can use revenue schedules in Salesforce to forecast the month-on-month order value.
Revenue schedules spread the anticipated income over time.
Using the GSP Product Schedules app, you can create this revenue forecast while adding the Product to the Opportunity.
In this example, we are defining the start date for the revenue and the number of months.
This means we now have a reliable view of the revenue over time.
As you can see, we've scheduled $5,000 of monthly revenue over 12 months.
However, you might be wondering:
What if the revenue forecast isn't a straight line?
No problem.
The app means you can adjust the revenue schedule month by month.
In other words, you're fine-tuning the revenue forecast.
In summary, Products and Revenue Schedules are an excellent way to manage drawdown framework agreements in Salesforce.
2. Manage Regular Order Framework Agreements in Salesforce
'Regular order' framework agreements in Salesforce also need an opportunity for each customer.
However, often this opportunity is created at the start of the year. It represents the total value of orders you anticipate from the customer over the year.
Nevertheless, as with the drawdown framework agreement, we need to schedule that revenue over time. So again, use the GSP Product Schedules app to do this.
But this time, let's go a step further.
As the year progresses, we update the revenue schedules based on how the year is panning out.
This information is vital for account managers.
That's because we can compare the value of the business we anticipated at the beginning of the year with the latest expectations on actual revenue.
We can roll this up by company, territory, and salesperson.
Either way, this gives account managers high visibility of the trend in orders for each customer.
The team at Zimmer Biomet uses this information to segment customers, drive business development activity, and implement marketing campaigns.
They also measure account management performance based on the quantity and value of orders placed by the customer.
Here's one more thing they do, relating to discount approval on the regular order framework agreement.
All information about the rationale for any discount is stored in the Chatter feed. In other words, directly on the Opportunity. The information is, therefore, readily available in the future. You don't have to search high and low for the email trail.
The reason is this:
The promise of future orders may justify a discount. However, the customer may fall short.
At the very least, you need to know this when it comes to re-negotiating the framework agreement. Storing the rationale for the original discount in the Chatter feed keeps this critical information visible and easy to find.
Here you can find more tips on controlling price discounts using Salesforce.
3. Manage Occasional Order Framework Agreements in Salesforce
With these types of framework agreements, you take a different approach.
There are, however, some similarities with the regular-order approach. That's because you create an opportunity to manage the process of securing the framework agreement.
This opportunity has a notional value only. So make sure you filter it out of the main pipeline reports and dashboard charts.
So far, it's similar to the way regular order framework agreements are managed in Salesforce.
However, there's no expectation of a weekly or monthly flow of relatively small orders. Instead, you need to work proactively with the customer to identify new projects and opportunities.
That's where opportunities come into it. Manage the sales process related to these projects through separate opportunities in Salesforce. That's because each one needs its own dedicated sales process.
Here's another thing:
The framework agreement will often define a specific set of product prices that will apply to future opportunities. To do this, you create a unique Price Book, just for that customer.
For example, Agile Solutions in the UK has a small number of strategic customers. These represent 15% of these total customer base. Yet they account for 70% of revenue.
Agile has agreed to specific rates and prices with each of these customers.
To make sure each opportunity has the correct price book, they use the GSP Auto Price Book Selector. This app makes sure your team is using the right Price Book in every case.
Price Book Auto Selector by GSP
Our 27 page eBook shows you the 12 killer
Sales Charts for your dashboard.
The GSP Auto Price Book Selector is an effective way to make sure salespeople consistently apply the right Price Book to Opportunities. You can download it for free from the AppExchange.
4. Manage License To Hunt Framework Agreements in Salesforce
This is similar to the way you manage occasional order agreements.
Use an opportunity to manage the sales process of getting the overall framework agreement secured. This opportunity has a notional value. It's based on the 12 month or long-term anticipated value of related deals.
However, be sure to exclude these types of opportunities from your pipeline of 'paying' deals.
After the framework agreement is in place, you create a separate opportunity in Salesforce for the Accounts on which you are working.
In other words, create a new opportunity for active prospects within the overall organization. You might want to use an Ultimate Parent function to get a complete view of all the Opportunities.
Ideally, use Products and Schedules on these opportunities to define and track revenue over time in Salesforce.
So there you have it.
Four types of framework agreement you can manage in Salesforce.
Unlike our prospect, please don't make a dog's breakfast of it.
Need any help or more advice? Don't hesitate to get in touch.
Track targets in Salesforce including won and pipeline deals
Superb pipeline visibility and sales performance metrics
Improve forecasting by scheduling opportunity revenue over time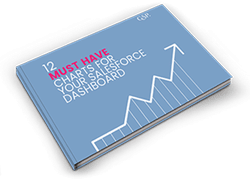 Download The 12 Must-Have Dashboard Charts
This fully-illustrated 27 page ebook shows you the 12 Killer Sales Charts for your Dashboard and explains How to Read Them and When to Use Them.
If your revenue recognition forecasts are little...