Track targets in Salesforce including won and pipeline deals
Superb pipeline visibility and sales performance metrics
Improve forecasting by scheduling opportunity revenue over time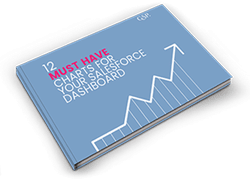 Download The 12 Must-Have Dashboard Charts
This fully-illustrated 27 page ebook shows you the 12 Killer Sales Charts for your Dashboard and explains How to Read Them and When to Use Them.
Many sales managers are crestfallen when it...
Effective sales manage relies on robust visibility of the sales pipeline. This salesforce dashboard chart shows the open opportunities by close date and stage. It gives sales executives the essential information they need to manage the sales pipeline effectively. It allows them to forecast accurately. It enables dud deals to be identified. And it prevents that all too common problem of the over-inflated sales pipeline.