"If they were proper salespeople they would generate their own leads."
So says Paul Rolling.
Paul commented on the LinkedIn version of last week's blog post, "Why Salespeople Complain About Marketing Leads".
The post tells the story of how the Marketing team at Modernis attended a trade show. Marketing generated lots of leads. Then passed them straight to Sales.
Guess the number of opportunities created?
None whatsoever.
What happened next?
Modernis engaged us for a customer research project 12 months later. Consequently, the GSP team phoned 10 of the leads as part of the research assignment.
Here's what we found:
Five of the leads had since made a purchase or were in the process of doing so. In other words, 50% were great quality leads.
Yet Sales originally thought all the leads were rubbish.
I outlined the lessons that Modernis learned from this experience.
Then I published the blog on LinkedIn. And Paul made his comment:
"If they were proper salespeople they would generate their own leads."
Really, Paul?
I asked him to elaborate.
"What I mean is that if you need others to create your sales leads you are doing only half the job."
"If you start and finish the process yourself, you can properly qualify the prospect without wasting time with leads from someone who is simply playing a numbers game."
You can see his point.
Proper qualification of Leads is critical to effective selling. No one wants salespeople to waste time on non-productive leads. And the salesperson knows best what represents a qualified lead.
Why salespeople should generate their own leads
Here are five ways I think salespeople should create their own leads.
Referrals. Salespeople are in the ideal position to ask a customer or prospect if they can recommend anyone else.
Existing customers. We all agree it is easier to sell to existing customers than new ones. Generating new leads from within the existing customer base is part of any salesperson's role.
Very specific cold contacts. Something has changed with a potential customer. Takeover, acquisition, competitor action, it doesn't matter. In certain situations, a carefully crafted, highly targeted email or phone call from a salesperson with relevant company and industry knowledge and experience is the right approach.
Networking / speaking. Many salespeople attend networking or speak at events. All legitimate ways for salespeople to generate their own leads.
LinkedIn (or other social media). Keeping in touch, regularly interacting with groups, sending targeted communications, are all ways for salespeople to generate their own leads.
So Paul has a point.
In other words, there are situations when it is right for salespeople to generate their own leads.
Nevertheless, I have a but. And it's a big but.
In most businesses, the leads salespeople generate themselves should supplement rather than replace the leads Marketing generate on behalf of salespeople.
Why salespeople shouldn't generate their own leads
Let's remind ourselves of the context here.
We're talking about sales teams that operate in a B2B environment in which the sales cycle is several months or more. I'm also assuming that there is a reasonable degree of sales and marketing alignment.
1. Sales people are expensive
Salespeople are often the most expensive resources in a company. That's even before you consider the fully loaded cost of Sales.
In many industries, salespeople need a significant degree of experience and expertise in the product area. They need to be sufficiently mature (irrespective of age) to interact effectively with experienced counter-parts on the purchasing side. That takes time and investment in people development.
This investment means salespeople have to be productive as possible.
The conflict with lead generation is that so much of this work is time consuming and unproductive. Simply finding the right people to contact can take an age. Getting hold of them even longer.
This work can left reliably to lower cost employees. Having salespeople generate their own leads is an inefficient use of this expensive asset.
2. Salespeople aren't very good at cold calling
This may come as a surprise to many people not directly involved in sales. After all, salespeople are supposed to have the 'gift of the gab', aren't they?
No, not necessarily.
In fact, in my experience, the most successful salespeople are the ones that listen the most and talk the least.
Calling and qualifying leads is a skill in its own right. However, because they are not very good at it, for many skilled salespeople, cold calling prospects is like going on a diet or giving up smoking. Tomorrow is always a better day to start. Focus today on getting an existing deal moved along, rather than spend time being rejected on the phone.
Awesome Pipeline and Sales Performance Visibility
Download the FREE Dashboard from the AppExchange today
3. Confused roles and metrics
Expect salespeople to generate their own leads and you risk confusion over priorities and focus.
Let's say you have a salesperson that is consistently one of the top revenue performers. But she's poor at generating leads. Is she doing well or badly? What management action do you take? If you are not careful, you risk damaging overall revenue by making her focus more time and energy on generating her own leads.
Moreover, what if she's not very good at generating her own leads? There is a serious risk of demotivation and resignation. Far better to have her out in the field, spending time with customers and prospects.
4. Consistent, robust approach to generating leads
Effective lead generation requires a systematic and organized approach. This means a day-in-day-out reliable process of gathering information, sending relevant communications, calling potential prospects, making appointments.
Importantly, lead generation is not an activity you can afford to leave until the pipeline is low. It is not something to do in a crisis. This is a business activity that requires a continuous, systematic approach. Use the extensive internet resources such as Siteoscope to generate more web leads.
Generating leads is too important to be left to times when a salesperson has a quiet moment. Remember, there's never a quiet moment. It requires dedicated commitment from a properly trained, organized and managed person or team.
5. Technology is re-engineering lead generation
Once, cold calling and adverts was primarily the way to generate leads.
Not anymore.
Prospects are devouring content. B2B buyers research extensively online before deciding on which suppliers to contact. They decide when, how and on what terms to interact with each selling organization.
Companies effective at generating leads are increasingly using technology in order to align with this buyer-led approach. Applications such as Pardot and Marketo allow vendors to nurture, prioritize and monitor leads. They perform these activities on a scale and sophistication that no human can achieve.
So let marketing automation technology do its thing. Only then, when the technology highlights a sales-ready lead, should the salesperson get involved.
In summary
Every sales team rightly expects salespeople to generate their own leads. These leads come from sources such as networking, carefully targeted email, referrals and extensions into the customer's own organization.
However, in many businesses, it is counter-productive to ask salespeople to focus heavily on generating their own leads.
Far better to let technology and automated business processes do the work of lead nurturing and prioritization. It means getting lower cost employees with specialist skills to do the hard work of identifying and qualifying leads.
Further Reading
5 Compelling Recommendations For Sales And Marketing Alignment 
5 Proven Lead Conversion Best Practices
7 Lead Conversion Metrics You Should Be Tracking (But Probably Aren't)
12 Must-Have Charts For Your Salesforce Dashboard
Download the FREE eBook from our website today
Track targets in Salesforce including won and pipeline deals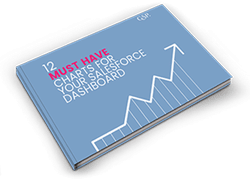 Download The 12 Must-Have Dashboard Charts
This fully-illustrated 27 page ebook shows you the 12 Killer Sales Charts for your Dashboard and explains How to Read Them and When to Use Them.